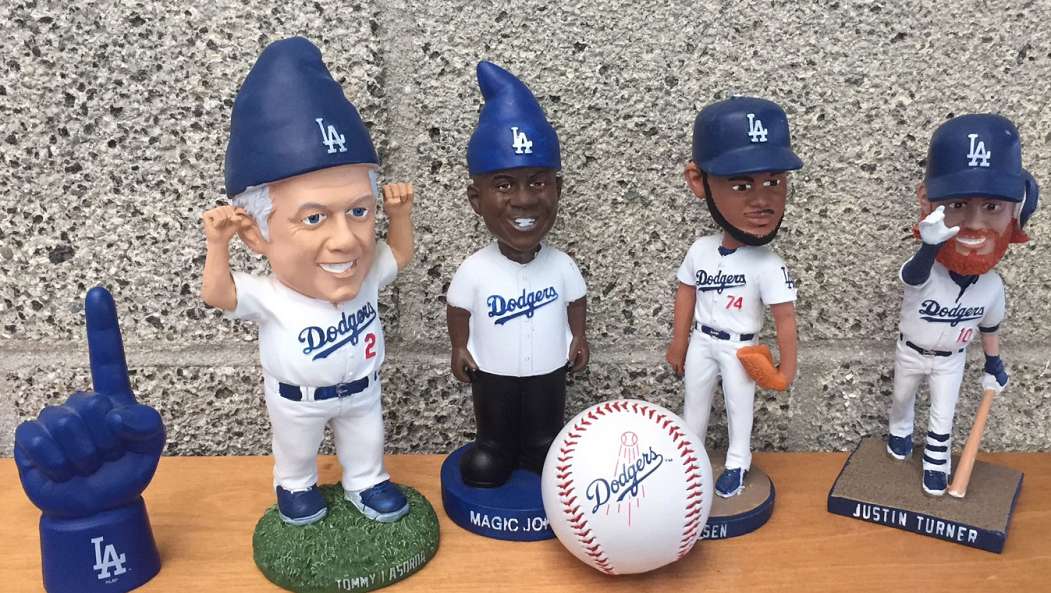 Reaching Dodger Stadium, ticket in hand, pushing through the turnstiles, walking up the tunnel and then, suddenly, a moment of truth. There's something momentous about approaching and encountering the whole field, stadium and crowd, all at once, as you emerge from the tunnel. It's when you first take in the entire ballpark: you see the colors, smell the field, hear the fans, watch the players warming up.
Dodger Stadium, home of the Los Angeles Dodgers, is located in Chavez Ravine, adjacent to Echo Park and Elysian Park and just north of downtown Los Angeles. Opened in April 1962, it is the oldest major league ballpark on the west coast, and the league's third oldest overall, after Fenway Park in Boston (1912) and Wrigley Field in Chicago (1914). Among Dodgers fans, like us, there is a great sense of pride in this heritage.
As many of you know, Los Angeles is a sprawling, diverse and fragmented urban territory. But Dodger Stadium is one of the places where everything and everyone can seem to come together. And for both of us, growing up in the Echo Park neighborhood of Los Angeles, within walking distance of the stadium, the Dodger experience has come to represent something uniquely L.A.
In this post, we want to describe our passion for the Dodgers, and share a few stories about Dodger Stadium. Consider it our respective personal histories of this great place.
A DODGERS FAMILY
Tony:
It all started with my dad, who was a lifelong Dodgers fan. When he first came to this country and set roots down in L.A., one of his favorite things to do was to go to a ballgame. It became a tradition for us to attend Opening Day, which is something I still try to do every year. For me, going to see a game was really my earliest memory of seeing large groups of people all involved and focused on the same thing. And I always noticed there would be people of all different races, backgrounds, socio-economic status and ages, all walking up the same hill to Chavez Ravine, and all wearing their Dodger Blue fan gear.
Mario:
When my dad came to the U.S. from Mexico in the '70s, he said Dodger Stadium was his little getaway. He says that for those few hours of baseball, he would forget about everything else around him. And of course, I grew up watching the Dodgers, too.
Dodger Stadium to me, is a place where I have many family memories. It just feels like home. As a kid, my dad would always take me and my brother to a few games every year, or when he was not able to, my mom would take us. And once in a while we would all go together as a family. We lived about 10 minutes walking distance from the stadium, so it was convenient for us. A lot of people walk to the stadium, so you will always see a wave of blue walking the streets on game day. As a family, we still go to a few games a year. I am 32 years old now, and I still enjoy being at the stadium. The whole day ahead of time, I still get excited when I know I am going to the ballpark.
OUT OF LEFT FIELD
Tony:
For me, the most iconic place in Dodger Stadium has always been the Left Field Pavilion. It seems like it was always the place to be if you were from the neighborhood. It was as if all of Echo Park owned its own section of the stadium. Faces were familiar and there was a sense of comfort sitting among people in the community. Today, it's changed a bit and become a place of interest, with new restaurants, specialty food items and opportunities to meet Dodger legends that doesn't happen in other parts of the park.
Mario:
When I was young, we would always sit in Left Field, and as I got older, I finally figured out why we would always sit in Left Field. Growing up, it was always known as the Mexican section. But Left Field was also the cheapest section to buy tickets for a game. And back in the '80s and '90s when we were kids, if you showed up on game day 30 minutes before the first pitch, they sold tickets for left field at 50% off. So my dad would end up paying just $3 a ticket! Left Field could get a little rowdy. It's where people are always cheering the loudest, or booing, trash talking, getting in the occasional fights. A few years back, they even stopped selling alcohol in Left Field.
THE ROAR OF THE CROWD
Tony:
Like all sporting events, fans are happiest when we are winning. High-five-ing, hugging and cheering together with strangers is commonplace at Dodger Stadium. But the energy isn't always positive, sometimes there's booing and frustration that tends to follow when the Boys in Blue are down. Regardless of whether the Dodgers win or lose, I think going to a game always makes people happy, because it brings to mind happy memories, pride in our city and, if you are like me, it reminds me of being a kid again, and walking up to the Ravine with my dad.
Mario:
The fans are really what makes this place so exciting. You might think it's the players, but when the fans are cheering their hearts out for a play or certain player, that's when the players play a better game. It's not a scientific thing, but it's the energy you feel when you're there in the stadium—it's an experience you can't really explain. You need to be there to feel the energy, meet great fans and have an awesome experience.
WHAT CONVENES
Mario:
The Dodgers have always been different when it comes to bringing people together, and that's part of the Dodgers legend, too. Jackie Robinson, Hall-of-Famer, the first professional baseball player to break the color barrier, played his entire career for the Dodgers at second base, back when they were still based in Brooklyn. And Fernando Valenzuela, with the whole "Fernandomania" in the early 1980s, he was one of the first Mexican baseball legends to play for the Dodgers. There are Dodger fans from around the world, and they all come together at Dodger Stadium. Another recent example: one of the Dodgers current pitchers is Kenta Maeda, from Japan. When he pitches, so many Japanese fans are at the stadium showing support. And I love it, because when you see things like that in-person, it is awesome. There is no hate, just common bond. Everyone inside this stadium is here for one reason, to enjoy a few hours of baseball and forget about the world around you.
Tony:
Ultimately, I think people like to gather at Dodger games for a few reasons. It's a friendly, informal event. People can unwind from a long day at work to enjoy America's favorite pastime. And from where I'm coming from, I know the repeat crowd keeps going to Dodger games because they want to support their home team. Still, a lot of others are just there for the social gathering experience, just an occasion for hanging out with friends, family or co-workers.
Mario:
Why gather at Dodger Stadium? It's not only for the love of the game, but the whole environment in the stadium. In Dodger Stadium you see different people, from all races, ethnicities, backgrounds, and from throughout Los Angeles and beyond, all coming together for a few hours to watch a game and have a good time. You will always run into someone you know at Dodger Stadium. Fans have family reunions at the game, or you get together with friends you have not seen in years.
THIS IS THE YEAR
Mario:
I am still waiting to experience a World Series championship. The Dodger's last world championship was back in 1988, but I was only 4 years old and don't remember it. Every year I get excited for the start of the new season. I always have high expectations for the team, and hope they make it to the postseason and the World Series. That's one more reason to keep coming back to Dodger Stadium. Anything could happen.